"It will always be in unity that we find strength"- the EU and China enter into two agreements setting out a brighter future for the aviation industry.
After years of progress and intensifying cooperation, the European Union and China have finally entered into two separate agreements with the scope of boosting their growth, creating new jobs and uniting its people, a theory which truly complements the very foundation upon which the European Union was built. Given the current positive trade relationship that already exists between the two continents, such agreements will definately continue to generate more business, foster innovation and allow passengers to profit from safer, cleaner and cheaper flights.
The Bilateral Aviation Safety Agreement (BASA) will:
support worldwide trade in aircraft and related products.
remove the unnecessary duplication of evaluation and certification activities for aeronautical products by the civil aviation authorities.
reduce costs for the aviation sector.
promote cooperation between the EU and China towards a high level of civil aviation safety and environmental compatibility.
The Horizontal Aviation Agreement will:
allow all EU airlines to fly to China from any EU Member State with a bilateral air services agreement with China under which unused traffic rights are available.
bring bilateral air services agreements between China and EU Member States into conformity with EU law – a renewed legal certainty which will be beneficial to airlines on both sides.
At this stage, both the European Commission and the Chinese transport administration will now proceed with their respective internal procedures to put the conclusion of the agreement in place which is likely to see an economic surge of up to €3.5bn during the first 8 years of the agreement and approxtimately 11,000 new jobs by 2025.
Interesting Facts
The EU is China's largest trading partner, while China is the second largest trading partner for the EU.
China has third largest domestic aviation market in the world, with an expected growth of 7% annually in the period 2015-2034.
The traffic between the EU and China has doubled to 10 million passengers in 10 years (2008- 2017) with an annual growth rate of 6.7%.
In air freight, China is the second most important extra-EU partner (US being the 1st) with 1.5 million tonnes, growing annually over 9% in the past 5 years.
In 2019 over 30 airlines are connecting EU to China offering a choice of 84 city pairs, 475 weekly return flights and over 270.000 weekly seats. Also over 110 weekly return freight flights ensure the flow of goods.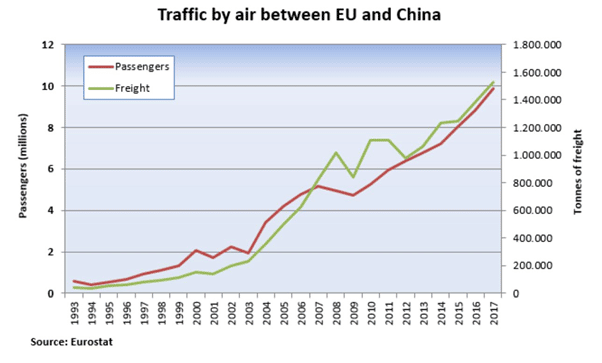 For more information or assistance on Aviation kindly contact Dr. Robert Tufigno on rtufigno@gtgadvocates.com or Dr. Sean Xerri de Caro on SXerrideCaro@gtgadvocates.com.
This article is not intended to impart legal advice and readers are asked to seek verification of statements made before acting on them.