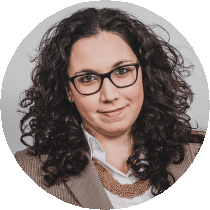 Cherise Abela Grech
Senior Associate | LL.D. MA F.S.
Dr Abela Grech is a Senior Associate responsible for the Fintech and Corporate Legal Teams. Her main areas of focus are FinTech, Corporate Law, Financial Services, Compliance and Anti-Money Laundering, and Residence and Citizenship.
Dr Abela Grech regularly advises on investment funds, investment services, financial institutions, and pension and share option schemes. She also regularly assists clients in matters related to virtual currencies and distributed ledger technologies, including in respect of security token offerings, virtual currency-related activities requiring investment services licensing and investment funds investing in virtual currencies. She also provides legal assistance to the firm's corporate services department with regards to company incorporation, compliance matters and general corporate assistance.
Dr Abela Grech has also assisted a number of clients in applying for Maltese citizenship, Maltese residence and clients seeking to benefit from Malta's beneficial tax residence schemes.
Dr Abela Grech was also a lecturer on Innovative Technology Services and Arrangements in the Virtual Financial Assets Agents examination which must be successfully completed to be authorised to advise and act in the virtual currency sphere in Malta.
Related Practices
Related Publications