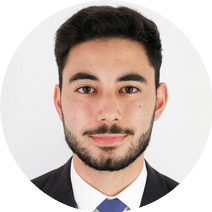 Gigi Gatt
Junior Associate | LL.B. (Hons) M.Adv. (Melit.)
Dr Gigi Gatt was admitted to the bar in 2021 after graduating with a Bachelor of Laws (Hons.) and Master of Advocacy degrees from the University of Malta after successfully defending his dissertation titled "Do the existing laws cover smart contracts or do we need a new set of laws to deal with them?"
Throughout his student years, Dr Gatt was always involved in student activism and was elected to the executive board of the European Law Students' Association (ELSA) for two consecutive years (2016-2018). He filled the roles of Vice President for Marketing and Secretary General. During his years in ELSA, Dr Gatt formed part of various Maltese delegations representing ELSA Malta during International Council Meetings. In 2018, he was the Head of the Organising Committee for the Summer Elsa Law School on Maritime Law, an international event organised in Malta which hosted circa fifty participants from 18 different countries.
Dr Gatt became an Associate lawyer within the Firm in 2020. His main areas of practice include shipping, data protection, gaming, civil and compliance.
Dr Gatt is a key member of the firm's shipping department, providing his services and assistance in a number of areas including ship registration, purchase and sale of ships, ship finance, and shipping administration and compliance.
He is fluent in English and Maltese and has a working knowledge of Italian.
Related Practices
Related Publications